Where time stood still.
Where the green heart of Portugal beats…
Back To basic.
Camping Quinta do Rio, located right in the middle of a beautiful ecological area, is often considered a true paradise. The refreshing 'Tamega' river flows alongside the entire length of our property. Due to its natural current, there are no mosquito's to be found!
Quinta do Rio was once a traditional wine farm (Vinho Verde) with large wine terraces. The camping facilities are therefore unique and versatile. You can choose a spacious camping pitch on one of these many terraces…right between the vines. The large plane tree / mimosa / cork oak / chestnut trees account for shady spots. Or what about pitching in a Tipi (Teepee) tent, to experience the true Indian feeling. Kids (0-99 years) love it!
If piece of mind and heart is what you're after. There's no better place to lay your hat. You will be amazed. If you look closely you can see the hops, nightjar, kingfisher and even an otter. On our own property you will be welcomed by our dogs, cat and chickens.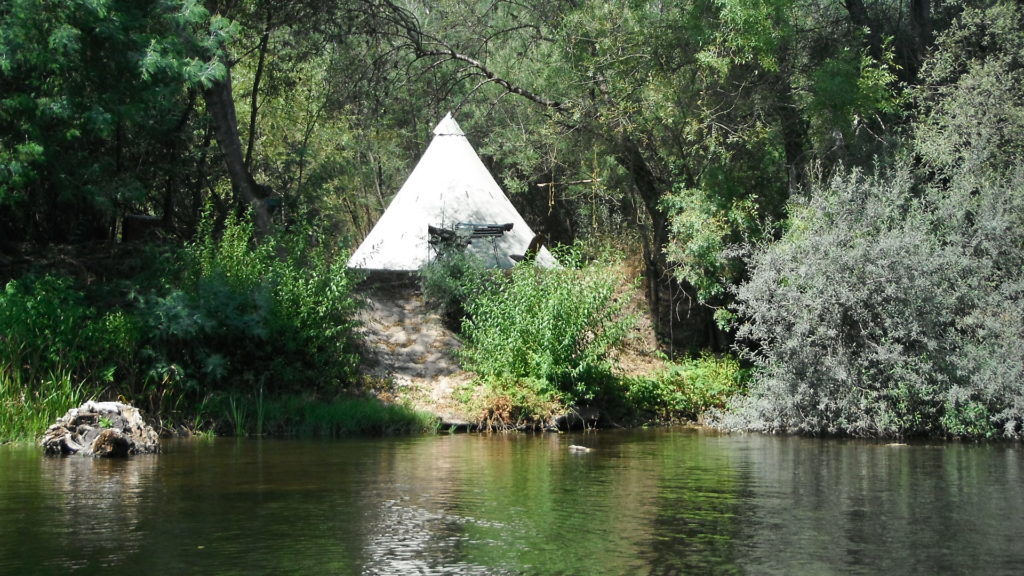 If, on the other hand, you're in for some action or culture, you will have a hard time dividing your time between all this region has to offer! Such as hiking, mountainbiking, swimming, paintball, horseback driving, offroad trips (with own vehicle)
Many activities and beautiful cities.
Cities like Guimaraes, Braga, Porto, Amarante are waiting for your visit. As well as authentic little villages where time stood still, where a little old lady in traditional black widow-clothing, her face weathered by the extensive work on the land, wishes you a 'boa tarde' while you patiently wait for her goats to deblock the road ahead of you. Winding roads with amazing views throughout the natural parcs…
Your intenernal you is well catered for. You can start the day with fresh bread or a hearty breakfast. Several times a week, delicious dishes will be prepared for you. We can also advise a couple of good local restaurants.
Since Quinta do Rio is located right in the middle of unspoiled nature,we can be reached by the means of a 2 km long wide dirt road. The nearest town for your shopping and such can be found at 4 km: Mondim de Basto.